Attorney Email Hosting Services
"I am not a technical person and the setup process was simple. Everything worked the first time and they were incredibly patient with my support questions throughout."
– Donna Wulkan
, Sites for Law Firms customer
Our attorney email services includes email hosting for legal websites with all the features and security your law firm will need. Our email service includes an extremely reliable system with daily backups. If you ever lose an important email, our system can retrieve lost emails going back 14 days.
You can use our email service with your favorite desktop and/or mobile application such as Outlook®, Apple Mail™, Thunderbird™, iPhone®, Android®, Windows® Mobile, Gmail, Yahoo and more. In addition, we provide a web based email interface that is compact and easy-to-use. Legal professionals have different needs and requirements than typical personal users. Standard email hosting platforms are great for staying in touch with friends and family, but when your law practice relies on fast, secure email that allows large attachments, we have you covered.
Finally, we offer the most modern email technology available (IMAP), which allows all of your devices to be synced no matter how you access your email. If you read, file or delete an individual email, all of your devices instantly get the update.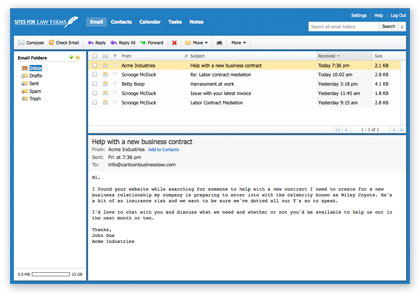 Our Attorney Email Services:
Access to mail, calendar, contacts, tasks, and notes
Use our easy webmail client or your desktop client, like Outlook®, Apple Mail™ or Thunderbird™
Access email on your iPhone®, Android®, BlackBerry® or Windows® Mobile device
View/share/edit calendars
iCal® support
Maintain and track task lists
Create group contacts lists
Companywide contact lists
25GB mailboxes (hold about 10 years of email)
50MB attachments (about 500 JPEG images)
Mail filtering controls and enhanced searching
For Your IT Department:
Data migration assistance available
Secure access to your email, and redundant servers to prevent downtime
Add/delete/restore mailboxes
Desktop client compatibility
Email spam and virus filters
Managed daily backups (Up to 14 days old)