Professional Website & Email
Attract New Business
Experts in Online Advertising
Mobile Ready
Measure Results
Experts at Serving Attorneys
You should be able to focus on practicing law, not web design or internet marketing. We want it to be a pleasure to create your law firm website, not a chore. When you build a website using our tool, it is tailored to your law firm's specific areas of practice and location. With just a few minutes of effort your new website is filled with pages of relevent content designed to bring new clients to your firm.
Our service doesn't end at getting your website online. We're also here to help you when you need it. After more than a decade of helping attorneys succeed online, we understand how to serve our clients effectively and without wasting your time or money. Take advantage of our enterprise-class email services, expert marketing advice, or choose our Advertising Plan for a comprehensive online marketing campaign.
"Our firm has been working with the team behind Sites for Law Firms for years and we've found them to be true experts with attorney Internet marketing."
– Cohelan Khoury & Singer
Fast, Easy Website Builder For Attorneys

Avoid the expense and long waits when building and maintaining attorney websites.
Sites For Law Firms is a state-of-the-art tool for building attorney websites. You can quickly customize each professionally designed attorney website template to fit your law firm's taste and brand. Easily edit your website anywhere, anytime with our web-based application. You never have to wait for anyone else to make changes to your website!
SEO Marketing Attracts New Leads Online
The most beautiful law firm websites in the world are worthless if no one can find you online.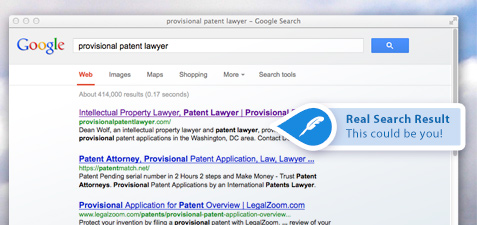 While we do not guarantee first place SEO results, the above is a real result for a client.
If you're like most law firms, you rely on a steady flow of new business to maintain and grow your billable hours. Search Engine Optimization (SEO) is a process of improving the visibility of a website in a search engine's "unpaid" search results. In the age of the Internet, expert SEO is a highly cost-effective way to bring in new clients.
Sites For Law Firms is an expert SEO provider. Our automated Search Engine Optimization tool helps ensure that your site includes the specific search terms that new clients use when they look for lawyers online.
Powerful Online Marketing
We have over 500 different areas of practice researched and ready for great SEO results geared to attract your ideal client. We provide a powerful SEO tool that inserts the top search terms for your practice area automatically. Simply choose an area of practice and one of our professionally designed lawyer Web design templates using our website setup wizard. Original SEO content is then automatically inserted into your site.
This law firm and attorney online marketing tool is proven to drive visitors to attorney websites. There's no better or more affordable way to get highly effective law firm SEO for your site.
Make sure clients can find you
Even the most expertly designed law firm website in the world is worthless if no one can find you online. And while no one can guarantee that you'll get top Google search rankings, our one-of-a-kind website builder can significantly increase the number of potential clients who will view your site.